Skip to Content
Santa Clarita Auto Body Work
Dent Man, the S.M.A.R.T. Choice!
Did you come out to the car after grocery shopping and notice a ding, bump, or dent on your car? Whether it's the result of a shopping cart or a careless driver in the parking lot, Dent Man can help erase the frustration quickly and always at a fair price. Because we specialize in small repairs, we won't ever make you wait because a bigger job came along. We are a family-owned business and our Santa Clarita auto bodywork specialists work hard to make your life easier.
To learn more about our Small Area Repair Technology, make the S.M.A.R.T choice and call us today at 661-510-3579.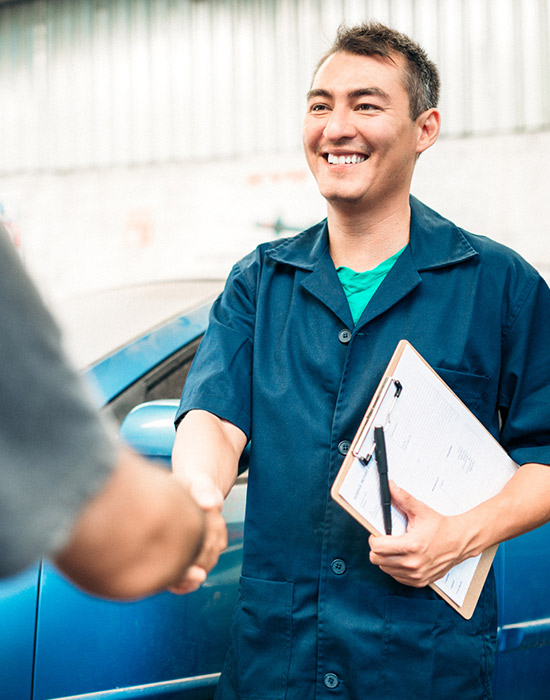 Expert Service at an Affordable Rate
Many large auto body shops charge an arm and a leg for small repairs and many will try to convince you that a small ding or dent requires more extensive work than it actually does. This is a drain on your time and your pocket. At Dent Man, we believe in providing superior service at an affordable rate. Our highly-trained auto bodywork technicians in Santa Clarita utilize specially designed tools and techniques to repair minor dents and dings without any sanding, body filler, or repainting required!
We offer a variety of services including:
If you need minor auto body work in Santa Clarita, Castaic, Saugus, Valencia, or Canyon Country, the experienced, friendly team at Dent Man can help.
At Dent Man, the Customer Always Comes First
Far too often auto body shops put the customer on hold and cater to insurance companies. Dent Man is different. While we accept all insurance, our Santa Clarita auto bodywork experts always keep the customer's needs first. We know your life is busy and the last thing you want to deal with is a drawn-out car repair. As a small, local company we are able to work together with customers, ensuring the job gets done correctly and efficiently. Most jobs are done in a couple of hours!
To find out how Dent Man can make your life easier, call our Santa Clarita auto body repair shop at 661-510-3579.
When You Need a Repair, Dent Man Fixes It Quick!
Call or email our technicians today.
The Best Dent Man for Miles Around!
Our Customers Come First
We prioritize taking care of our customers over anything else.
Affordable & Effective Solutions
We believe in getting the job done right and at a fair price.
Committed to Your Every Need
We hold ourselves accountable for your 100% satisfaction.
All Insurances Accepted
We welcome customers with all forms of insurance.