Skip to Content
Auto Body Spot Repair in Santa Clarita
The Dent Man Difference
Did you know that not all dings, dents, and scratches require full repainting? Often auto body shops will try to convince you that you need more extensive bodywork done than your car actually requires. However, in many cases, a simple spot repair is all you need to get your car back to looking its best. Furthermore, spot repair is an ideal option for people looking to save time and money. At Dent Man, we will always work with you to ensure that your spot repair needs are taken care of in a timely manner and at an affordable rate.
To schedule an appointment for auto body spot repair in Santa Clarita, call 661-510-3579.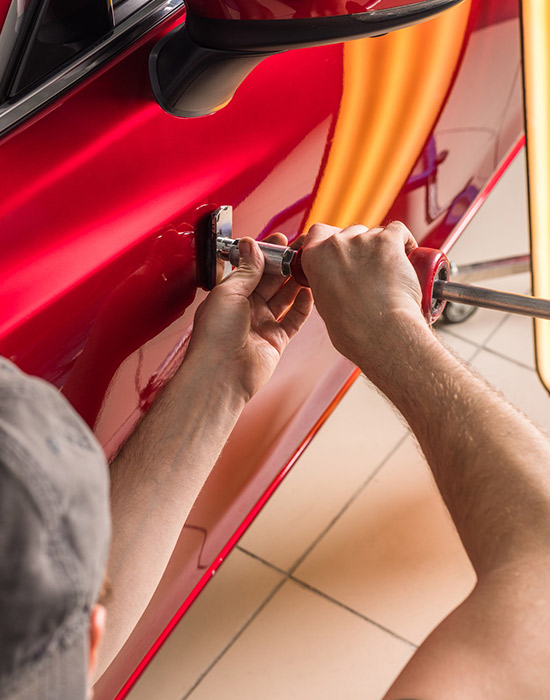 Highly Skilled Technicians & Quality Products
In order to get the job done right, Dent Man's Santa Clarita spot repair technicians are all highly trained in the latest spot repair technologies. Additionally, we only use the highest quality of products, including PPG Envirobase paint.
Our state of the art repair shop also features:
Computerized Factory Matching System to ensure exact color matches
Duster 3000 Mobile Down Draft Prep Station to eliminate dirt, dust, and overspray
A team of experienced, knowledgeable repair mechanics dedicated to bringing you the best in spot repair services
Dent Man is proud to offer premier auto body spot repair to the communities of Santa Clarita, Castaic, Saugus, Valencia, and Canyon Country. With Dent Man, minor dents, dings, and scratches disappear at a fraction of the cost of a body shop. Call us today!
We Are Always Available for You
We know that dealing with spot repairs can be frustrating, taking precious time away from your day. We are committed to providing customers with professional auto body spot repair, and most jobs can be completed in just a couple of hours. Dent Man technicians are all specialists in S.M.A.R.T. Repairs (Small Area Repair Technology), and we are prepared to put our experience to work for you. Because we specialize in small repairs, we are able to streamline the automotive body repair process, making us the quick, cost-effective choice.
To find out how Dent Man can help save you time and money, call our Santa Clarita spot repair specialists at 661-510-3579.
When You Need a Repair, Dent Man Fixes It Quick!
Call or email our technicians today.
The Best Dent Man for Miles Around!
Our Customers Come First
We prioritize taking care of our customers over anything else.
Affordable & Effective Solutions
We believe in getting the job done right and at a fair price.
Committed to Your Every Need
We hold ourselves accountable for your 100% satisfaction.
All Insurances Accepted
We welcome customers with all forms of insurance.