Skip to Content
Paintless Dent Repair in Santa Clarita
Dent Man Saves You Time & Money
Many people associate dent repair with expensive bodywork, including sanding, body filler, and/or repainting. It doesn't have to be this way, however. At Dent Man, we specialize in paintless dent repair, an innovative technique that is quick, affordable, and leaves your car's original factory paint finish unaffected. In addition to being significantly cheaper than dent repair from a large body shop, our Santa Clarita paintless dent repair specialists are highly trained and utilize specially designed tools and small area repair technologies. When you need a small ding or a larger dent fixed on your car, Dent Man is the S.M.A.R.T. choice.
To schedule an appointment with our paintless dent repair technician in Santa Clarita, call 661-510-3579.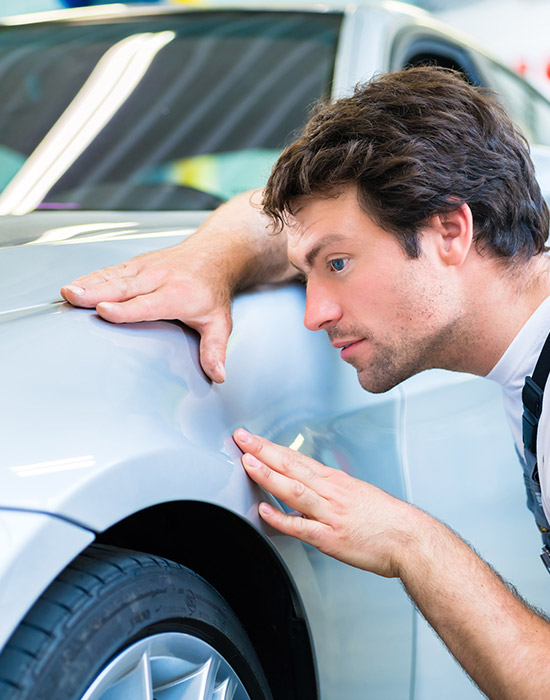 The Benefits of Paintless Dent Repair
Did you know that paintless dent repair is highly effective from very small dings to larger dents? While the ideal situation is a dent that is not on an edge or body line, our paintless dent removal technicians in Santa Clarita can help with just about any situation.
The advantages of paintless dent removal include:
No need for sanding, body filler, or repainting, resulting in a faster repair time
Your vehicle retains its original paint, meaning no danger of mismatched paint colors
Paintless dent repair is less expensive than traditional body repair
In most cases, you can receive same-day service, and repairs typically are done in a couple of hours
If you have a dent, bump, or ding on your vehicle, and you want it repaired quickly and affordably, skip the large auto body shops, and come to Dent Man. Our highly-skilled, paintless dent repair specialists will provide you with the top-quality, efficient service you are looking for, getting you back on the road in no time.
At Dent Man, We Treat You Like Family
Dent Man is a family-owned local business and in addition to serving Santa Clarita, we are also proud to serve the communities of Castaic, Saugus, Valencia, and Canyon Country. We know your life is busy, and we are committed to providing you with the best paintless dent repair services in Santa Clarita. We believe in doing the job right the first time and we always put our customers' needs first, even when working with insurance companies.
Do you need paintless dent repair or removal in Santa Clarita? Speak with the experts at Dent Man by calling 661-510-3579.
When You Need a Repair, Dent Man Fixes It Quick!
Call or email our technicians today.
The Best Dent Man for Miles Around!
Our Customers Come First
We prioritize taking care of our customers over anything else.
Affordable & Effective Solutions
We believe in getting the job done right and at a fair price.
Committed to Your Every Need
We hold ourselves accountable for your 100% satisfaction.
All Insurances Accepted
We welcome customers with all forms of insurance.